Wednesday, April 25th, 2012
---
6:16 pm
- MISSING PERSON!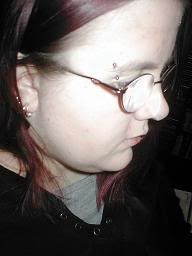 Jacqui Windsor (
angelundone) of Eastrop Way, Basingstoke, has been missing since Wednesday 12th / Thursday 13th of April 2006.

Anyone with any information about Jac's whereabouts should contact Det Sgt Wilcox, at Basingstoke CID, on 0845 045 4545.
Friday, January 15th, 2010
---
8:34 pm
- Friends only.
Comment to be added.
Journal is full of emo, rambling, and the occasional bout of girlish glee, though, so be warned. :)
Sunday, October 21st, 2007
---
10:48 am


I'm going out sleepwalking
Where mute memories start talking
The boss that couldn't help but hurt you
And the pretty thing he made desert you
I'm going out like a baby
A naive unsatisfiable baby
Grabbing onto whatever's around
For the soaring high or the crushing down
Hidden cracks that don't show
But that constantly just grow
Looking for the man that attacked me
While everybody was laughing at me
You beat it in me, that part of you
But I'm gonna split us back in two
Tired of living in a cloud
If you're gonna say shit now you'll do it out loud
It's 2:45 in the morning
And I'm putting myself on warning
For waking up in an unknown place
With a recollection you've half-erased
Looking for somebody's arms
To wave away past harm
Walking out on Center Circle
Both of you can just fade to black
Walking out on Center Circle
Been pushed away and I'll never come back


06/07/69 – 21/10/03.


Saturday, February 10th, 2007
---
6:48 pm
"the truth is, all that i am is a passing event that will be forgotten."
Monday, September 20th, 2004
---
8:48 pm
- nabbed off peter.
Comment to this entry and tell me anything that you want... but post it anonymously.

Anything.

A story, a secret, a confession, an apology, a fear, a love, a hatred -- anything.
Be sure to post anonymously and honestly.

post as many times as you want!!!

Then, put this in your LJ to see what your friends (and perhaps others who you don't even realize read your LJ) have to say.

current mood: ill!